Current Software Information
Current Release Version: 3.0.0.10 (Updated: 5/19/17)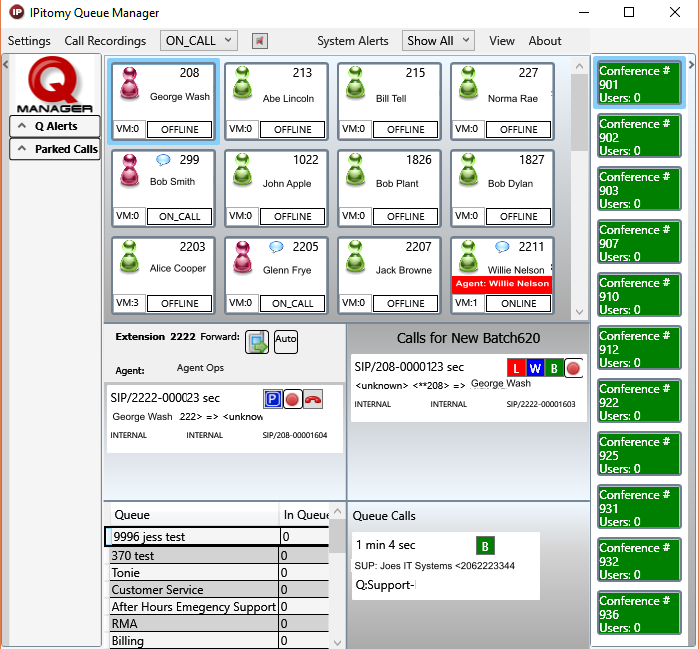 New features and enhancements:
View only members of the Queues that you are assigned to - enable this feature by assigning User Type - AGENT
Per Queue selection from main menu bar
Icon view or List View
List View is a sortable Table
Support for DNS name for PBX
Added Support for Directed Park
Added support for Microsoft Outlook Screen Pops
Added the ability to transfer calls from Q Manager to ring groups
Added the ability to transfer calls from Q Manager to Conference rooms
Added the ability to Search the current call Caller ID in CRM
Added the ability to do a Google search using the caller ID of the current call
Optimized the Q Manager for Microsoft Windows increasing performance
Optimized security features
Improved installation process
Note this software requires that the PBX be running 4.6.1 or newer to function. You must be running 4.8.0+ for chat support.
Download the Installer (Note if you are updating an existing version of Q Manager software, be sure and uninstall the old version first before installing the new version)
Installation Tips: The installer will download an .exe file. Click on the file to start the install process. Periodically, when you restart the program, it will ask if you want to update if updates are available. It is recommended that you always answer yes to updates.
If you are running Windows 8 or 10 and the application states that it is from an unknown publisher, click the link to "More Info" and then click the newly revealed "Run Anyway" button.
Older Versions -
Previous Version of Q Manager can be found here: Q Manager Support - V2