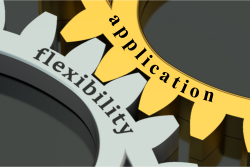 IPitomy Enhancements to Class of Service Features
In the latest software release, IPitomy has included big enhancements to the Class of Service feature. The enhancements allow configuring groups of users and restricting the user access to dialing selected internal destinations in the PBX.
Groups of users can be created, for instance two separate companies using the same PBX. Each group of users can be set up to restrict dialing certain extension, menus, groups or conferences. This essentially creates a very simple tenant group where users cannot dial extension or destinations of other users on the system.
Now class of service configurations can be created to segregate groups of users that have exclusive inbound call routes, outbound call routes and internal dialing plans.

This compliments the user access portal that allows customers to be set up as system administrators, but can only modify resources dedicated to them.

Changes to the Q Manager software allow agents to be configured so their Q Manager screen is limited to the groups that they are members of. This facilitates limiting what agents see on their Q Manager screen. Call Center Agents can be limited to only seeing the other agents in the queue they are assigned to. Of course this extends outside of the call center configuration and can be applied to any group of users to create an application suited to the requirements of the customer.